A Tribute to our beloved park.  Thanks, Diane Korstad.
Blue and Gray Park was established in the late 1970s. Featuring over 1700+ acres, enjoy scenic wooded ridges, creeks and water crossings, crop fields and hay land. There are numerous picnic table sites with hitching posts to ride too and stop at.
Sitter Downs is located on the south-east corner of the Park off Drinkwater Road.
Winter Riding
Campground Information
The main campground address is 11301 Brown Rd. Primitive camping only with shaded areas for camping and a creek. Horses may be tied using tie-lines, pens, or tie to trailers. Park officials ask that you do not tie directly to trees. Generators allowed.
Contact Jackson County Parks Department for more information (816)503-4890

The "top" campground located south of the main campground on Brown Rd (11872 S Brown Rd) can be reserved for private groups or special events. Call Jackson County Parks and Recreation for more information and pricing.
A trailer permit is required at Blue and Gray Park; $30, (Jackson County Parks and Recreation, 816-503-4805) which is good for one year. There is no charge for overnight camping if you have a permit. This permit covers all of the equine parks in Jackson County.
Trails/Routes
The Blue Route starts at the upper campground, (11872 S Brown Rd).
The Orange Route is across the road from the primitive campground.
The Pink Route is in the middle of the park.
The Red Route is on the NE corner of the park.
The Yellow Route (gas line trail) is in the middle of the park.

The Veterans Trail (purple) runs east/west through the park and the Boy Scout Campground. 

There are multiple trails in the park that come off of the routes/trails. Many of the trails will loop back to the routes.
Volunteers & Trail Maintenance
All trails are maintained and marked by volunteers and riders. Please pack out what you pack in. Sitter Downs helps organize a Spring and Fall Park Cleanup where ATV/UTVs and other power equipment are permitted for trail maintenance and cleanup.
Map
Some of the routes/trails have been updated.  There are multiple bypass trails around areas that may not be suitable for riding at the time (weather).
The Orange Route is across from the Lower Primitive Campground.  The Red Route is to the east of the Lower Primitive Campground.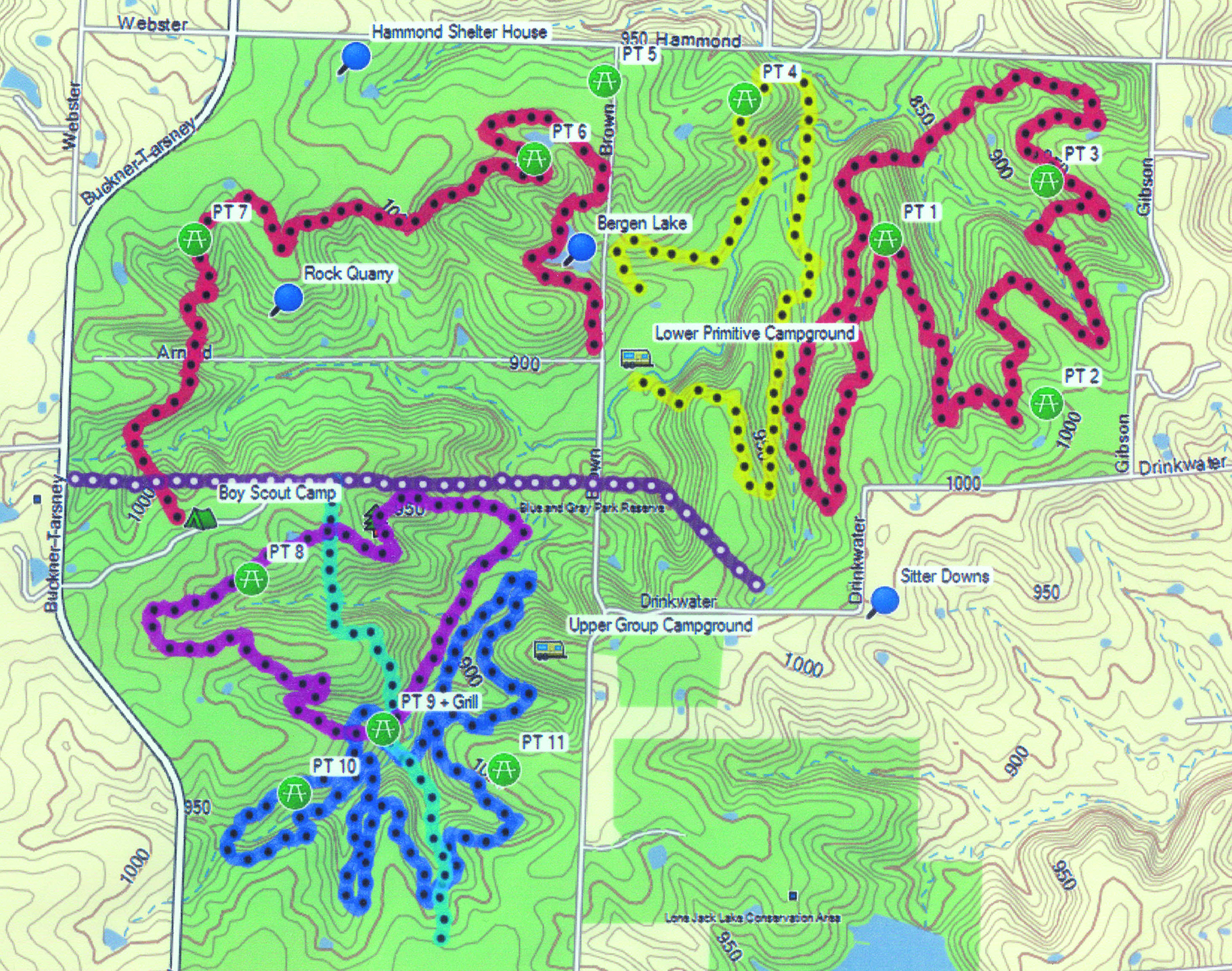 Campground Contacts
To report disturbances, four wheeling or dumping, PLEASE contact:
Jackson County Park Rangers: (816)503-4890
Jackson County Sheriff:  816-524-4300
1)  Take pictures of vehicle
2)  Get license #, if possible

This is how you maintain trails, many neighbors, friends of the park, and volunteers work on the park.
It is appreciated.  This is Coal and I (Retha); he is a good horse for trail work.